Feature of the week: Gather feedback with your articles from your readers

"Mistakes should be examined, learned from, and discarded; not dwelled upon and stored."
― Tim Fargo
Since the dawn of spams, getting a fair feedback has become a challenge. In the good old days on the internet, a feedback was easy - a few simple words in a comment system. Then problems started appearing in the form of marketing texts and links. This raised the simplicity to leave feedback: first visitors had to register to leave a feedback, then register and validate the account, up to the point, where now a normal feedback is a too much fuss.
Now, you have to own a validated account, a validated email address, log in, go through captchas and other security validation, just to answer a simple yes or no question: was this article helpful? A bit of jumping through several hoops, just to be helpful, right? Only if it were a solution to all this ...
Ideas implemented from constrained points of view (biased developers, designers, sysadmins) will NOT BENEFIT YOUR online strategies, harming your long-term competitiveness.
Meet the solution:
Add "Was this article helpful?" at the end or start or both of article with thumbs up and thumbs down. Thumbs up would make to share and thumbs down would make to provide feedback to the author via email.


like this:
We can offer you confidently, SEVERAL OPTIONS to choose which one suits your needs better.
To implement your own feedback gathering, please install and activate the Article Feedback, By the ThemeIdol Team plugin and follow this tutorial: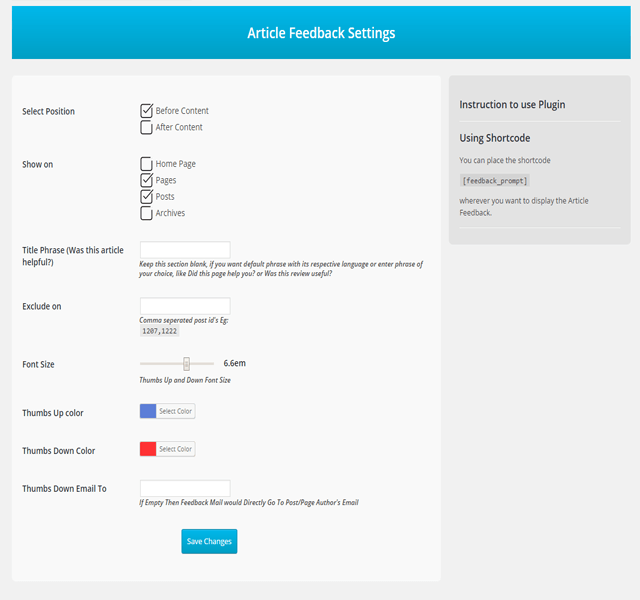 Go to Settings » Article Feedback
Select Position: Before, After the content (or both)
Check where to shown on: homepage, pages, posts and archives
Add an optional title
Specify exclusion ID's (pages,posts)
Specify thumbs up/down color
Specify email address to receive negative feedback
It's time to see
THE BIG PICTURE!
So....speaking of feedback... 😀