"Endurance is not just the ability to bear a hard thing, but to turn it into glory."
― William Barclay
Referral links are marathon runners!
Since the day of their creation, they live their existence for only one purpose: send the biggest amount of traffic, preferably with already converted leads. They don't have usually a pre-specified end-date, they will work, till the conversion works. Their converting capability is ALWAYS diminished by the other referral links, created by other users and pointing to the same thing, baiting the same hook for the same visitor click, to take the glory from you.
What is a Referral link?
A referral link is a special URL with an invitation to participate in a referral program. This link is used to track sharing, conversion, and ROI of that specific campaign. A referral link always offers some sort of reward. Mostly to the visitor, who clicks on the links and lands on the destination page. However, it is generally used to share a bit of profit, when a visitor does conversions (buys something) between the seller and the owner of the special URL.
Most common Referral link types:
LINKS FROM NEWS AGGREGATORS: News aggregators are portals gathering their niche information from several sources. These links refer back to the original post.
LINKS TO LISTS OF RESOURCES: Directories gather their niche information from specific sources and group them based on filters for easier discovery. These links refer back to the original owner (domain or page URL).
LINKS FROM THIRD-PARTY REVIEWS: Personal, very biased or just plain comparison between several similar offerings as a review. Close to an advertorial as structure, but mostly done for free with referral links to boost the value of the creation time invested in that specific review.
LINKS FROM BLOGGERS: Not everybody gets a full review. Sometimes, just a simple mention is enough. This is in a form of an URL, pointing directly to something. That URL is a Referral link.
PAID AFFILIATE LINKS: Profit sharing links towards a service or product, personalized per user profile. These are always offered by the seller, then picked up by advertisers and shared through their campaign efforts.
INFAMOUS INCENTIVE LINKS: Discount Links, Coupon Codes, Reward links, tight via an easily shareable link. These are always offered by the seller, and then mostly promoted through their own campaign efforts.
The less is more notion: The simplicity and clarity is often better understood and more appreciated!
Yet, referrals have by far the worst conversion rate. This bothered us for a while. Analyzing the above-mentioned approaches, we noticed that it's tight related to quality. When anybody tries to speak in name of somebody, they must have in-depth knowledge about the promoted "thing". When anybody fails to deliver this message, the conversion drops immediately to zero and bounce rate jumps over the roof.
And all this is normal. As an end-user, I'm wasting time trying to understand what I clicked. As an affiliate marketer, I'm wasting time trying to replicate and duplicate existing landing pages just to squeeze out a bit of luck. When a referring entity tries to promote a business, it will know less about that business, than the business itself. In these cases, best is to let the business speak for itself. You just do the REFERRAL.
Short URLs promote sharing: You can simply fit more content in less space with short URLs!
Meet the solution:
owl URL | Short URL Management from owl power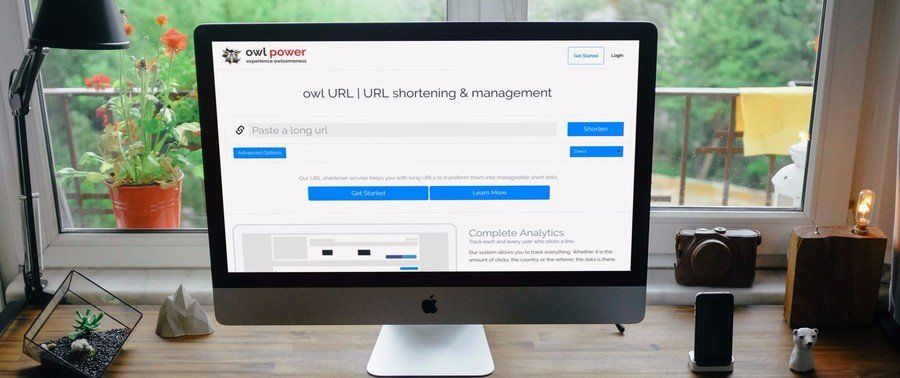 To create an owlsome referral link, capable to convert, please create an owl URL account and follow this tutorial: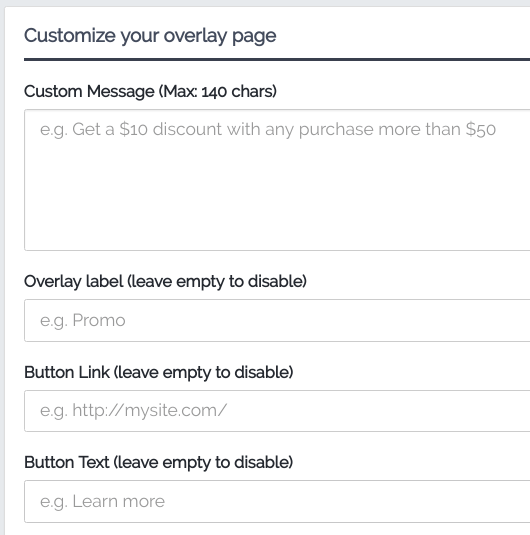 Login to your owl URL account
Go to Overlay pages
Enter your main message. Keep it short, under 140 characters.
Specify your referral URL.
Specify your referral label (like a title.
Specify your CTA for the referral button.
Specify your referral URL and button CTA.

Go back to your dashboard
Under redirection, type choose Overlay (right under the SHORTEN button).
Paste your long URL, click on SHORTEN.
Copy short URL. SHARE and enjoy

One click for a short URL: The fastest way to shorten a long URL at your fingertips!

Below is a live example. Yours should look similar if all went well. Notice the top bar, on above our referred page: https://url.owlpower.eu/fKukR

Perfect with your visual identity: The branding upgrade for your professional image!