"Starting April 13, 2018, anonymous users and users who have never created short links before today will not be able to create new short links via the goo.gl console…To refocus our efforts, we're turning down support for goo.gl over the coming weeks and replacing it with Firebase Dynamic Links (FDL)."
― Michael Hermanto, Software Engineer, Firebase
---
This news shocked us all. Google announced its new service, FIREBASE, – tracking users across devices (Use Cases) seems like a victory gloating dance on the grave of the suddenly deceased entity. The bad news kept on going: "If you have existing goo.gl short links, you can continue to use all features of goo.gl console for a period of one year, until March 30, 2019, when we will discontinue the console."
What this means for you?
All URL shorteners have lots of benefits, but you should remember that their redirect base is a property of a legal entity. When the company closes down, the base would be deleted, and all your shortened links would stop working. If you're going to work with cloud docs for a long time and you're likely to use them in a year or more, you should choose a safe service provider with positive reviews and history.
One click for a short URL: The fastest way to shorten a long URL at your fingertips!
A slight insult
When you get over the bad news, wrapped in the marketing package of the future app, you notice a slight hint to jumps ship AND immediately as an urgent pressure.
"If you are looking to create new short links, we recommend you check out popular services like Bitly and Ow.ly as an alternative."
― Michael Hermanto, Software Engineer, Firebase
---
So, why is this so bad? Well, both recommended platforms are great competitors to goo.gl. However not so much for the end user. This will not be a post, comparing our app – owl URL to these alternatives. No, too soon for that, not the place. We'll just point out a few things you should consider.
The less is more notion: The simplicity and clarity is often better understood and more appreciated!
CONS choosing bitly.com
– NO modification allowed of Destination URL. This means, that you cannot update your short URL with new destination links. If that landing becomes obsolete, so does your short URL with its statistics, and starts generating 404 errors on your domain.
– Statistical history deleted after 30 days for FREE tier. No analytics to analyse for you, freeloader!
– Can result in duplicate short links AND incorrect (fake) statistics. If you're shortening a link that you didn't create – a news article for example – the analytics will continue to pull data from the original URL as a whole, and not just your unique short URL.
– Your link is public. There is no walk around for this. Better not share something sensitive, or private, or confidential.
– Paid version start with ENTERPRISE. We all know what that means. Not for bloggers, small businesses and tight budgets.
– NO Link Privacy! For the FREE version, you are the product. This is from their terms of use: "Bitly collects and generates certain metrics and analytical data regarding the use of the Bitly Products, which includes Customer URLs and other web pages and web-based data and information that Bitly aggregates and uses in an anonymized form ("Bitly Metrics")."
CONS choosing ow.ly
– This is a rebranded bit.ly product. All the above mentioned technical CONS apply here too, like: NO modification allowed of Destination URL + Can result in duplicate short links + Incorrect statistics + Your link is public.
– You need to sign up for Hootsuite even if you need just its URL shortener. This means, that you get a platform (that is not free) to use their url shortening feature.
– It is completely integrated with Hootsuite, so it isn't an easy-to-use tool if you want a simple url shortener.
– Paid version starts with $19/month – based on annual billing, but do not include applicable taxes. Yeah, that's a lot for just a few link shortening.
Short URLs promote sharing: You can simply fit more content in less space with short URLs!
Our recommended solution as a goo.gl alternative:
owl URL | SHORT URL MANAGEMENT & URL SHORTENER
― from owl power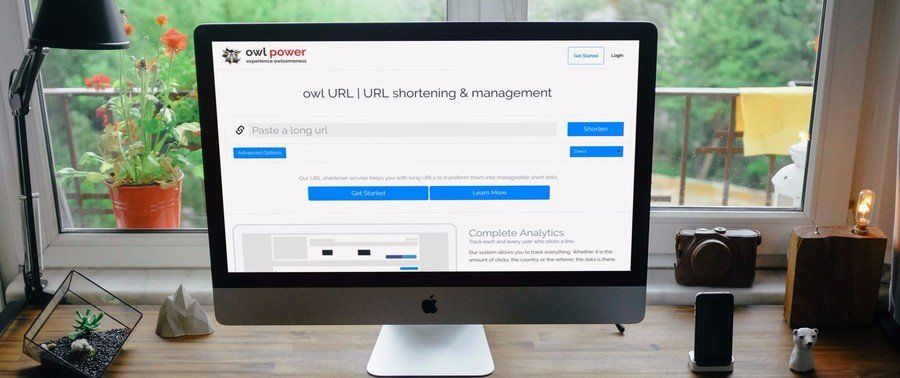 Targeting feature for a marketing ninja: With our owl URL application, you can target your visitors with a single URL!