We are very excited to share with you more information on our new releases:
owl KEYRA now has a Month-over-Month comparison, for both mobile keyword monitoring and desktop keyword monitoring, in the STATISTICS tab, for each customer.
We think you're going to be very pleased with the new statistics.
owl KEYRA Release Announcement:
The Month to Month keyword position comparison up till now was only available on the monthly or yearly reports. Viewing the recurrent reports you ordered (daily, weekly, bi-weekly, once-x-days, etc) did not have a clear picture of your trends. We considered a nuisance to open two reports, just to check the evolution trend for a specific keyword.
The SERP keyword position results were even more dynamic, in the last 6 months. This meant that positions changed more frequently within days, rather than weeks (as we all were used to). These SERP dynamics practically forced us to add this feature to the recurrent reports as well.
Month-over-Month Comparison:
The main benefit for the trend visualization, inside statistics for a specific keyword, in the Month-over-Month Comparison is reaction time. Now you can see in the recurrent reports which keyword(s) are losing its position and how many positions it fell since. The more keywords losing positions the worts is for the entire list.
The more position is losing a keyword the worst will be in the next report (especially if you have an only weekly recurrence). A trend comparison with the last month's position will immediately highlight the urgency. Neglecting an immediate reaction to gain back the lost position will mean, an even bigger loss as time passes by.
Until now, these trends were available only monthly, with a huge negative impact. Noticing the trend as the keyword(s) shifted several times as days/weeks passed was impossible. Accepting the position loss, drafting a plan, implementing it, meant more time passing for the keyword(s) position loss. Waiting for better positions was a hopeless dream, as it never happened.
owl KEYRA – keyword monitoring: Daily e-mail reports for MOBILE and DESKTOP keyword position monitoring on any SERP, any COUNTRY, any LANGUAGE.
owl KEYRA feature compatibility:
STATISTICS: Month-over-Month Comparison, as a new feature is available for all customers, without affecting your invoice. It is compatible with the following recurrent reports:
International keyword position monitoring per country.
Local keyword position monitoring per country.
Desktop keyword position monitoring.
Mobile keyword position monitoring
Desktop + Mobile keyword position monitoring
Mobile keyword position URL
Desktop keyword position URL
Mobile keyword position + URL
Desktop keyword position + URL
Mobile & Desktop keyword position + URL
A man who dares to waste one hour of time has not discovered the value of life. – Charles Darwin
Take a peek
– this is how it looks for a customer monitoring the keywords position in a single country: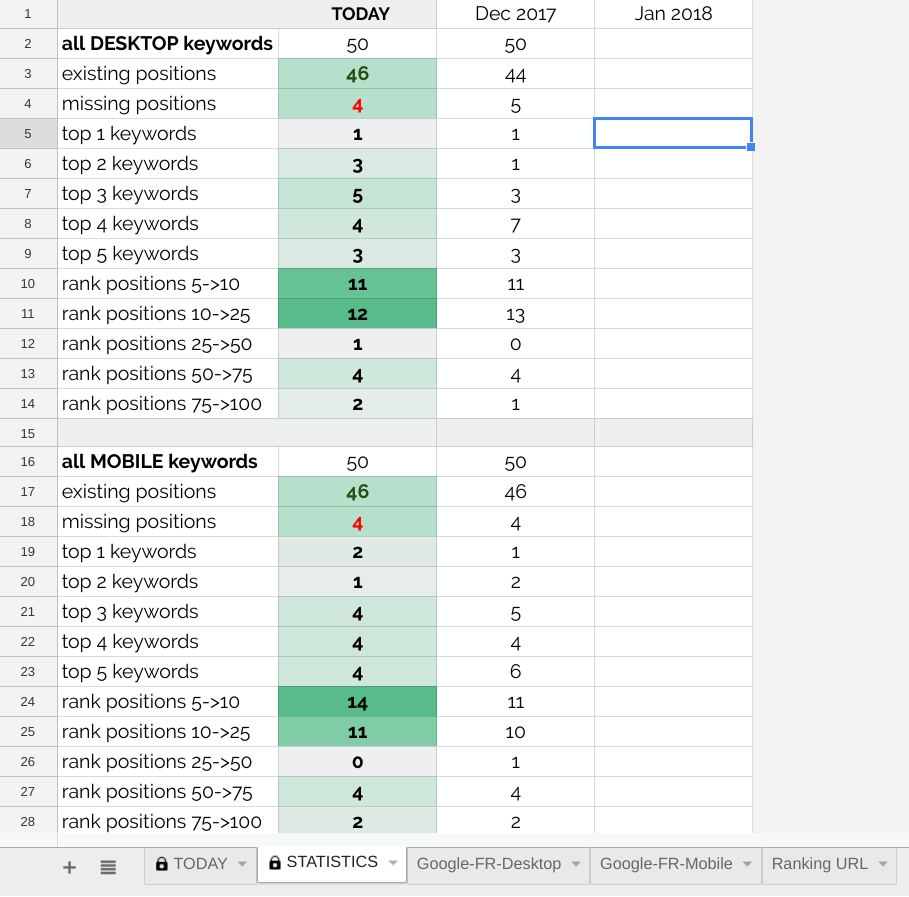 Successful people understand the value of time. – Raymond Arroyo
Take a peek
– this is how it looks for a customer monitoring the keywords position in several countries: