The complete guide for your very own DOMAIN MONITORING contains the foundation tasks to implement a decent domain monitoring strategy with the additional why, how, tips & tricks and step-by-step walkthrough with pictures, to serve as visual aids.
Let's start with: WHAT IS A DOMAIN?
Your domain is where we can access your website. All domains are composed of these 3 parts: your domain name (the "something" you rented from your domain name registrant) + the domain name extension (.tld, .com, .co.uk, etc) + the protocol, that we can access (https://). So basically this is your domain, as an example: https://owlpower.eu. This should be monitored first!
Why start with domain monitoring?
Simply put: if something happened with your website on your domain, this is the first alert that should notify you. This is the most vital URL, that should be monitored from all the https://owlpower.eu/* options.
To explain more simple, let's imagine, that your website is your car. Let's plan for a trip in the near future. We should consider the storage space for all the luggage we have; we should consider combustible prices; check for brake fluid and motor oil and windshield water levels ONLY AFTER we check, that the car is actually working. Because the rest of the checks are irrelevant if the domain does not work. If your car does not work, we cannot take the trip in that car.
OWL MIN: BECAUSE YOUR WEBSITE'S VISITORS NEVER SLEEP.
How to implement your domain monitoring?
Setting up a domain monitoring is extremely simple. Follow these steps:
Step 1 – You just type in your domain name in a browser. Based on your hosting server configuration, you will load your homepage. It should be https://owlpower.eu or https://owlpower.eu.
Step 2 – Then copy your domain from the browser.
Step 3 – Paste it into the "uptime monitoring" field inside your owl MIN.
Step 4 – Click on the "Start owl MIN" button and wait for the confirmation dialogue.
If all went well, it should look like this: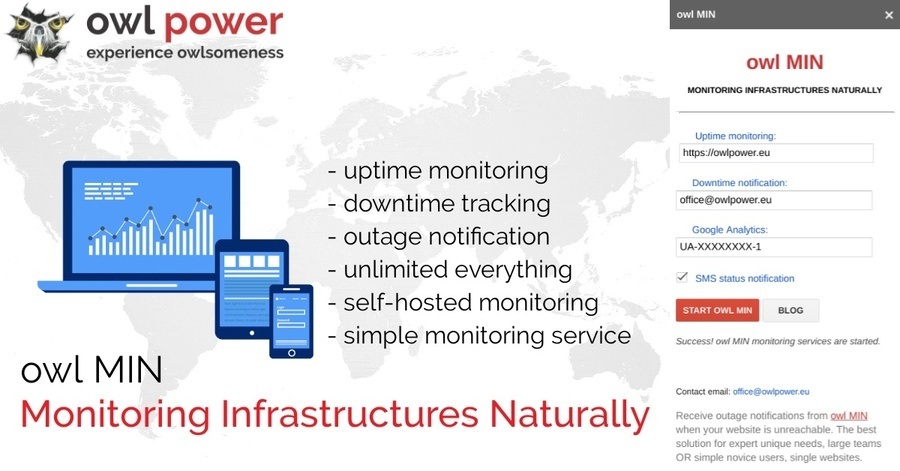 The best solution for expert unique needs, large teams
OR simple novice users, single websites.
Tips & tricks for a professional domain monitoring:
If your domain looks like this: https://owlpower.eu/ or https://owlpower.eu/ make sure, that you have an SSL certificate correctly installed and configured for your website.
Make sure you always monitor your HTTPS domain (and make sure HTTP is redirected automatically to HTTPS)!
Don't forget to monitor your AMP version of your domain. Always set up a domain monitor for https://owlpower.eu/amp/
Make sure, that the https://owlpower.eu/ points to the same hosting server as https://owlpower.eu/. This is often left on the previous hosting company's servers, after a migration.
Consider check intervals between 1 minute and 15 minutes for your uptime monitoring. We recommend using the same time as you would intervene after receiving a downtime notification.
Do not setup up several domain monitoring checks (especially from different providers). This can overload your server. Pick a single, reliable monitoring solution and stick to it.
Consider these arguments before you implement a domain monitoring:
Many web hosting companies hide downtime site issues (or they try to downplay it). Extra proof to back up your claims always helps.
Your web host may have an uptime guarantee, but it is often just a network uptime guarantee. It doesn't guarantee that your website or server will work, and those two you can screw up yourself by accident or by getting a spike in visitors.
Your web host doesn't guarantee that your website or server will work if screw up yourself by accident or if you're getting an unexpected spike in visitors.
There are no "outside business hours" on the web. Downtime at night in your time zone is downtime during office hours in some other place.
Indirect loss from downtime: Every time your site is offline, you are losing money. "Passive" means that the losses resulting from the unavailability of the website.
You shouldn't allow your users or customers to act as your monitoring. If they know before you do, that can easily get very embarrassing.
Is your website becoming more or less stable over time? There is no way you can know that without monitoring.
Keep your customers happy. In almost every industry, the purchasing decision starts with an online search.
Ensure your hard earned search results rankings. Google will penalize your search results ranking if your site is down at unexpected (peak) intervals or longer periods of time.
Considering the business we're in, here at owl power we may be biased, but we strongly believe that all website owners out there should monitor their sites. We wouldn't be in this business otherwise, and we do know what we're talking about.